(For English, please scroll down.)
ターンオーバーをする表皮に浅く入れていく新しいタトゥーメイクです。
従来のタトゥーメイクと違い、べったりと違和感のある見た目が続くことはなく、お肌のターンオーバーと共に徐々に退色していきます。
アイブロウは、眉の薄い箇所を補うためのパウダーメイクのような仕上がりのグラデーションの技法を用いて、従来のタトゥーメイクにはない自然な仕上がりを実現することができます。
完成から2,3年で退色していくので、時代や流行に合わせて新たに形を変えることも可能です。
安全な植物由来色素(中金属が含まれないもの)を使用するため、お肌にも優しく安心して施術を受けていただくことができます。
施術は、初回とリタッチの2回で1セットとなり、初回から1ヶ月後にリタッチでカラーをのせて完成します。
個人差はありますが、平均的には、リタッチ後は2~3年は綺麗な状態をキープできるといわれています。
ご予約は、ホームページのブッキングページのNorikoの空き状況をご覧いただきまして、お気軽にお問い合わせくださいませ。
グラデーション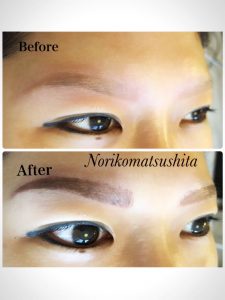 グラデーション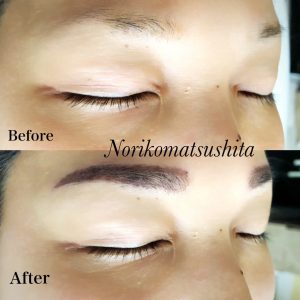 アイライン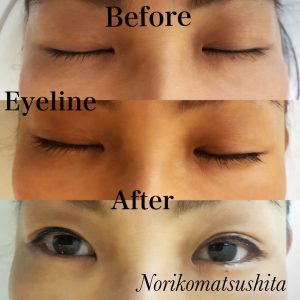 アイブロウ-グラデーション(リタッチ込み)   €450
所要時間 1時間半~2時間
(毛は全体的にあるが薄く、パウダーメイクをしたような仕上がりを求める方に向いています)
アイライン(上)(リタッチ込み) €450
所要時間 1時間
(アイラインメイクを入れたような仕上がりになります。)
アイライン(下)(リタッチ込み) €450
所要時間 1時間
(下のアイラインは、ラインで入れるタイプと、ドットを入れる自然なものから選べます。)
アイブロウ1回リタッチ €230
アイラインリタッチ €230
1~3年が経って色素が薄くなってきて再度色を重ねたい場合のメンテナンスです。
(他店の施術後のリタッチの場合+50€)
---
Semi-permanent makeup is a tattooing technique that gives a long-lasting makeup by coloring safe plant pigments(not containing metal) in the shallow layer of skin (0.01 to 0.03 mm below the surface). It does not come off with sweat, water, or even face washing. The result is very natural and can last approximately 2 years. Semi-permanent makeup fades along with skin's metabolism, so we can change the shape and color as you want after it faded.
We have Semi-permanent makeup for eyebrows.
All procedures require two visits(3 for those with poor color retention) to complete and perfect the look. Healing from the initial procedure can sometimes cause loss of pigment, making the 2nd visit so important to finish the new brows and correct any imperfections.
Please make 2 appointments for both visits when booking for semi-permanent makeup.
Skin type, age, metabolism and life style can affect persistence and color development of the procedure.
The stylist is Noriko.
Please check Noriko's schedule in booking page on our website and email us for any inquiries.
Booking page: Booking Page
Gradation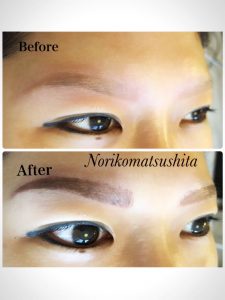 Gradation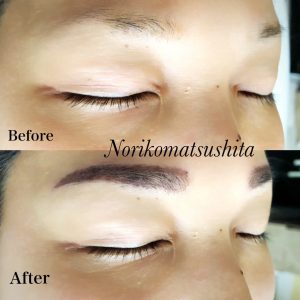 Eyeliner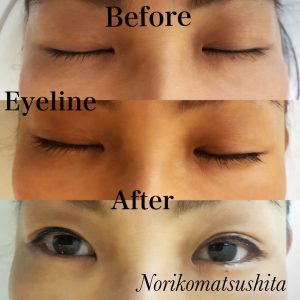 Eyebrow-Gradation(One complimentary touch-up included)   €450
90mins~2H
(a brow tattoo that looks like perfectly applied pencil or powder. Perfect for those with thin eyebrows who want natural powdered eyebrows.)
Eyeliner (One complimentary touch-up included) €450
1H
(Achieving natural look of eyeliner.)
Eyeliner(bottom) (One complimentary touch-up included) €450
1H
Eyebrows Re-visit €230
Eyeliner Re-visit €230
Re-visit(touch-up) after 1~3 years
(Touch up for semi-permanent makeup from other shops+50€)