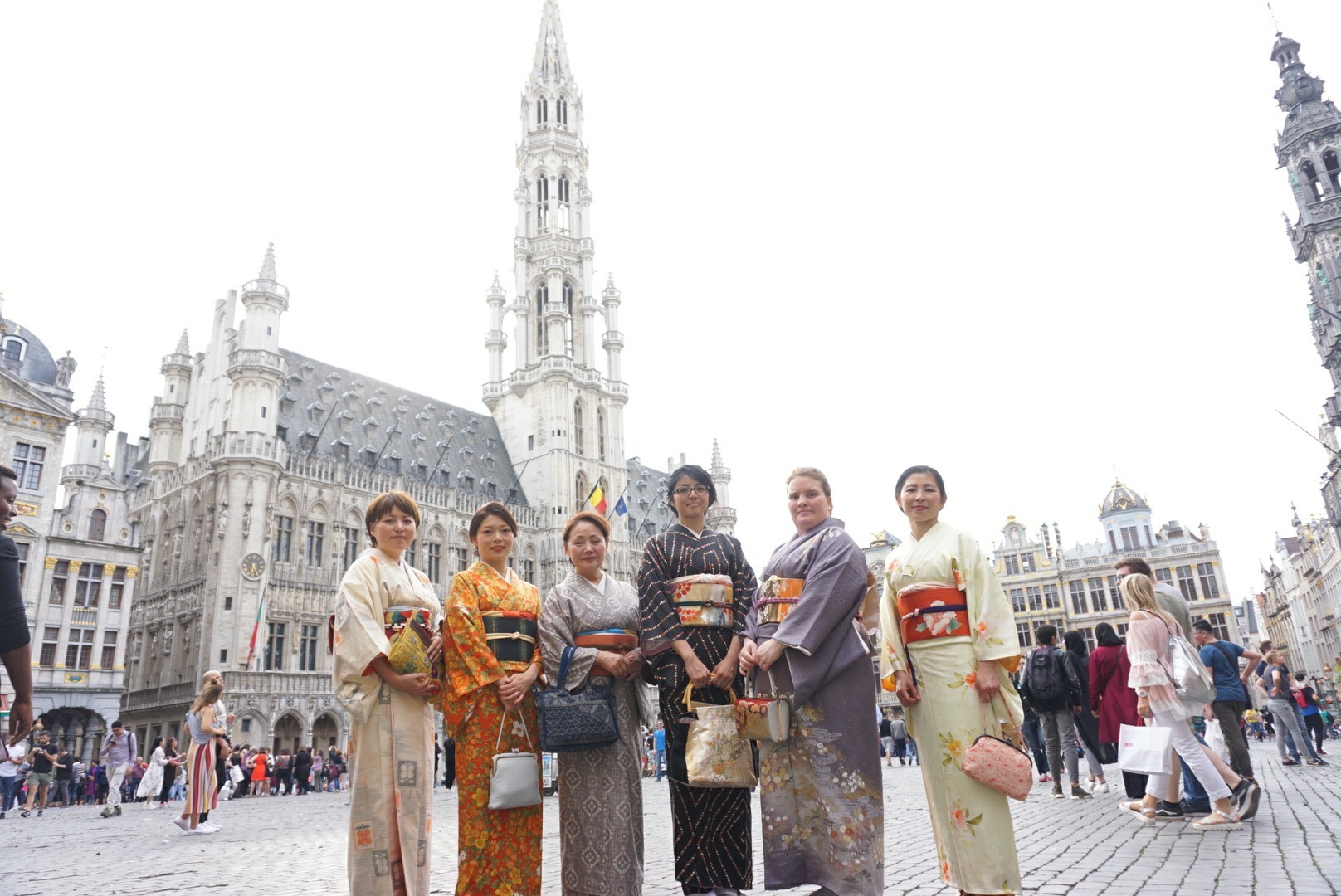 着物 WALK(For English, please scroll down.)
美容室NorikoMatsushitaでは、2ヶ月に1度 皆さんと着物を楽しむ会を開催しております。
日本の伝統文化でもある着物を、誇りに思い、国境を超えて楽しめる会にしたいと思っておりますので、ぜひお気軽にご参加ください!
○概要
・毎回、奇数月の第3日曜日(雨天の場合は次の週に延期)
・14時に市内に着物で集合
・市内の色々な場所で写真撮影
・市内でお茶
・参加無料のイベントです!
第5回目 は、<<2019年 3月17日>>です!!
※今回は予約制となります。
集合場所は、下記のカフェになります。
予約をして席を確保するため、参加ご希望の方は3日前までにメールにてご参加の旨をお知らせくださいませ。
カフェでのお支払いは、各自となります。
○集合場所
【Café Métropole】
Place De Brouckère 31,
1000 Bruxelles
Googlemap↓
https://goo.gl/maps/aPLL5mqE4U22
○ご予約連絡先↓
info@norikomatsushita.com
着物をご自身で着られない方は当店にて予約を受け付けております。
+-+-+-+-+-+-+-+-+-+-+-+-+-+-+-+-+-+-+-
– フル着付け €80
– 帯だけ €25
– 着物レンタル込み着付け €200
(事前に身長、足のサイズなどお知らせ頂きます。数には限りがございます。)
– ヘアセット €50
※ご予約は、少なくとも3日前までにお願いいたします。
+-+-+-+-+-+-+-+-+-+-+-+-+-+-+-+-+-+-+-
ご興味がある方はぜひお気軽にお問い合わせ下さいませ。
※着物ウォークの最新情報は、FBのイベントページにてご連絡いたします。お出かけの前に必ずご確認ください。
https://www.facebook.com/events/401425073944948/
---
KIMONO WALK
"KIMONO WALK" is a free-to-participate event where all the participants wear Kimono and go out together to Brussels city-center.
Kimono Walk is…
・On 3rd Sunday in every 2 months (Postponed to following Sunday if rain.)
・Please wear a Kimono on the day and meet us at 14:00.
・We do photo shoot in various places in Brussels city-center.
・We also go out for a cup of tea.
・Is a free-of-charge event!!
The 4th Kimono Walk will be
<<March 17th, 2019>>
*Pre-booking is needed this time.
This time, we will meet you all at a café as below.
Please let us know your participation by email at least 3days prior to the day of Kimono Walk so that we can book a seat for you there.
○The café
【Café Métropole】
Place De Brouckère 31,
1000 Bruxelles
Googlemap↓
https://goo.gl/maps/aPLL5mqE4U22
○Email for pre-booking↓
info@norikomatsushita.com
If you need a Kitsuke(Kimono dressing) for it, you can totally rely on us!
+-+-+-+-+-+-+-+-+-+-+-+-+-+-+-+-+-+-+-
– Complete Kitsuke €80
– Only tying Obi €25
– Rental Kimono & Kitsuke €200
(Please let us know your size (height, foot size…etc.) in advance. Quantities are limited.)
– Hair styling €50
※Please make a booking at least 3days prior to the day of Kimono Walk.
+-+-+-+-+-+-+-+-+-+-+-+-+-+-+-+-+-+-+-
Kimono is a traditional Japanese clothing and a form of art.
By holding "Kimono Walk", we would like to introduce its beauty and elegance to Brussels and enjoy it with everyone!!
Please contact us if you are interested!!
* Please check the latest status on following FB link, especially on the day of Kimono Walk.
https://www.facebook.com/events/401425073944948/